T18 – Winnetka Troop 18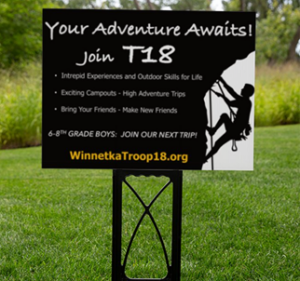 Is your son interested in activities such as backpacking, mountain biking, camping, swimming, canoeing, and rock climbing?  Then, Troop 18 might be right for him….
Scouts participate in adventure activities, while also working on a variety or merit badges that support fantastic character-building experiences throughout the year.
Scouting has a strong track record for helping youth develop self-reliance, strong character, respect for others, good citizenship skills, and physical and mental fitness.  Our program has instilled in young men the values and knowledge that are helpful to become leaders in the community and in the country.
If your son is interested, you owe it to him and yourself to come to our open house. You'll meet our scouts and adult leader and get a firsthand look at and how we do things and can ask questions. We have some fun activities planned. 
OPEN HOUSE (open to all boys 10-17) 2022
Tuesday March 8th at 7:00-8:30pm – Christ Church, 470 Maple St.
SCOUT AND FAMILY CAMPFIRE COOKOUT DINNER 2022
Our welcome Campfire COOKOUT – Dinner is scheduled for
Tuesday April 12th at 6:00-8:00pm – Crow Island Woods
Please RSVP for this event at info@winnetkatroop18.org
JOIN TODAY
Go to the BSA site for Troop 18 and fill out the form and pay the prorated fee to join anytime.
(Note annual dues submitted in May)
[Note: you will need to log into your BSA- scouting account or create a new one to sign up]
Please RSVP for either event.
To find out more, emails us at: