DRESS CODE FOR REGULAR MEETINGS
Scouts should wear their Scout shirt, kerchief and Scout belt at all regular meetings.
DRESS CODE FOR PARADES
Full dress code, including Scout shirt, kerchief, Scout pants (long pants unless otherwise stated by the Scoutmaster), belt and socks.
PARADE PARTICIPATION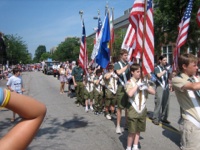 In addition to the below-referenced service hours, scouts are required to serve in one of the two Winnetka parades each year (Memorial Day or 4th of July).
SERVICE HOURS
In order to be eligible for advancement, Troop 18 Scouts must be active participants in meetings and camp-outs, and are required to log at least 15 service hours per year (see below).  Prizes will be awarded to the top three scouts whose service hours go beyond the required minimum.  Scouts must report their service hours by e-mail to Mr. Hess at troop18info@gmail.com.  Please specify the date(s), hours served, and nature of the service.  Scouts can keep track of their service hours by checking the Service Hours page of this web site.
SCOUT REQUIREMENTS
Do their best to live by the Scout Oath, Law, Motto and Slogan (demonstrating the Scout spirit)
Active participation in Troop 18 meetings and camp outs (participate in at least 50% of events for year)
Dress appropriately for Scout meetings and events
Show respect for Scout leaders and one another
Satisfactorily complete requirements to earn specific badges or advancements
Work 15 service hours from May-April, including parades, Eagle projects, Scout-sponsored and Troop-approved events.  The policy for service hours is noted above; you can check your service hours online.
Participate in at least one Scout parade per year (Memorial Day or July 4th)
PARENT REQUIREMENTS (at least one parent)
Attend Courts of Honor (even if your son isn't receiving a badge or advancement)
Participate (help out) in at least one camp out or event per year
Communicate to Scout leader if you or your son can't meet a requirement