BSA Winnetka Troop 18 Touchless Holiday Wreath Sales
THANK YOU FOR ALL YOUR ORDERS THIS YEAR 2020- Our Order Window is now Closed.
** ALL ORDERS MUST BE RECEIVED BY MONDAY NOVEMBER 9th, 2020 **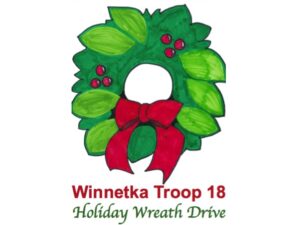 This year Troop 18 is focusing on giving you peace of mind and touchless ordering and delivery this Holiday season.  Your local scout is your first point of contact but NEW this year we have an fully automated website where you can select your items for local delivery in Winnetka (and surrounding New Trier district) or have them shipped to loved ones across the lower 48 states.
If you know your Troop 18 local scout and just need to print out order form they are attached below.
Note scouts will be out placing door hangers with their names and wreath information to get you started.
Order by check/cash
2020 Wreath Drive Product Local Delivery
2020 Wreath Drive Product Shipped
If you just want to place an order on line and pay on line please use our secure square site below.
Order on line pay on line for both local DELIVERED Items and/or Direct SHIPPED items
Please go to our secure square site:
https://bsa-troop-18.square.site
…. Just want to make a donation please use the following link.
https://checkout.square.site/merchant/16ERATXHXEM33/checkout/UYZFSPDMGWFNH6UO553E7D4H
Questions:
If you have any questions or need a scout to contact you, please email Pat Fox at chicagoorangefox@icloud.com